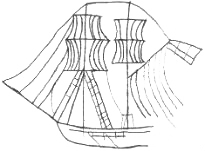 'Graffiti and a Shipyard' is the title of a very special audiovisual for the visitors of www.apan.gr
Fifty two graffiti depicting barks, sailing and fishing boats of the Ottoman period have been found near a shipyard of the Seljuk period in the fortified town of Alanya, on the Mediterranean coast of Turkey (the closest big city is Antalya). Modern Alanya was the ancient Greek Korakesion, a pirates' stronghold during the second and first centuries BC; the Byzantines named it Kalonoros and the Seljuks called it Alaia.
The Turkish-speaking Greek Orthodox Community of this naval town represented less of the one sixth of the whole population: about 1.700-1.800 persons in the beginning of the last century. They worked in the Tarsane (Shipyard), building ships mostly for the Ottoman fleet, but most of them worked in the sea: fishermen, carriers and merchants going to Cyprus, to Syria, to Alexandria and Smyrna. They were obliged to leave their homeland after 1923 according to the Treaty of Lausanne for the Exchange of Populations between Turkey and Greece.
From our recent trip to the area the Panorama Archive (APAN) was enriched with a large series of photos as well as the 300 hundred pages of the travel notes; we used all this material and mixed it with music and sounds for the production of a digitalized power point (in the form of a video).
The video is in Greek but, nevertheless, we invite the Anglophone public to enjoy the wonderful journey.